Welcome to the future of pressure injury prevention
A turning schedule isn't enough – let alone one that relies on paper turn clocks. Finally, there's a modern, digital system to help you personalize care for each patient and help prevent pressure injuries.4,9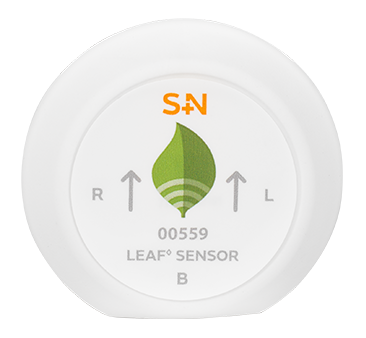 The LEAF◊ Patient Monitoring System combines wearable patient technology with a computer interface so you can:
Get digital turn reminders
(in-room and at the nurses' station)
Confirm the quality of your patient turns*
Automatically generate reports
The LEAF System measures more than just turn frequency; it also measures turn angle and tissue recovery time4 through the Integrated Position Technology™.
*Based on individual facility protocol
---
85% reduction in HAPIs
As part of a quality improvement program, the LEAF Patient Monitoring System helped one facility reduce sacrococcygeal hospital-acquired pressure injuries (HAPIs) by 84.6% from baseline (p<.00001), resulting in an estimated annual cost savings exceeding $1 million.11
---
Watch the LEAF System overview video.
Learn more at www.sn-leaf.com.